Iridium satellite phone plans offer flexible options that give you access to voice and text services all over the world. Iridium's network consists of 66 active satellites that orbit the Earth so you can be connected from anywhere, using an Iridium satellite phone. Iridium is unique in providing 100% global coverage that includes all land masses, the poles and oceans.
The Iridium Prepaid Northern Lights plan is the most popular and economical option for those who plan on usage enitrely within Canada.  The plan is valid for 6 months, includes 200 voice minutes, 400 text messages or a combination of the 2.  The plan allows for easy online top up to add minutes or extend expiry.
Options for Iridium sat phone plans in Canada are plentiful and the packages are compatible with all Iridium satellite phones, including the Iridium 9575 Extreme, Iridium 9555, Iridium GO!, Iridium 9505, Iridium 9505A and the Iridium 9500. Plans are based on regions so choose the bundle that best reflects your itinerary.
For example, the Middle East / North Africa region bundle covers 12 countries including areas that are 12 nautical miles from the coast. These countries include Afghanistan, Cyprus, Iraq, Jordan, Kuwait, Lebanon, Oman, Saudi Arabia, Turkey & United Arab Emirates. But note that some countries within this region ban the use of satellite phones so coverage isn't provided for Comoros, Cote d'Ivoire, Liberia, Libya, Rwanda, Sao Tome, Seychelles, Sudan, Swaziland and Togo.
Iridium Satellite Phone Plans
Iridium Prepaid vs Postpaid Plans
Iridium prepaid plans are perfect when you need your satellite phone for a short term or seasonally, while Iridium postpaid plans are intended for long term or indefinite use. Prepaid plans have specific number of minutes that are valid from 30 days up to 2 years, while postpaid plans have no airtime limits and don't expire. All plans include a free SIM card with free delivery, free incoming calls, free incoming text messages and free voicemail.
Iridium Prepaid Plans
Convenient global prepaid plans that work everywhere on the planet and discounted regional plans without long-term contracts, billing hassles and credit checks.  Regional prepaid options include Canada + Alaska, Middle East and North Africa, Latin America, Africa and Australia.  Regional plan rates are lower than the global plan, but cannot originate calls from outside the specified region.  Iridium prepaid plans are typically more economical than postpaid subscriptions. 
Why Choose Prepaid?
Iridium Prepaid plans are the most suitable options for short or seasonal work that requires you to travel to far off places with unreliable cellular coverage. This is a no contract, no commitment plan to see you through a few weeks of traveling. The postpaid SIM does not expire but for prepaid there are validity restrictions for active use.
But if you're nearing your expiration, or run low on airtime, you'll be notified so you don't lose what you paid for. The minutes remain valid for 6 months from the activation date and you can roll over unused minutes if you renew before expiring. Iridium offers standard and emergency postpaid subscriptions as well as global and regional discounted prepaid SIM cards, designed to suit your needs. On average it costs about C$50 to C$60 per month to keep an Iridium phone active on a prepaid plan, while postpaid prices are about 20% to 40% more. 
Iridium Postpaid Plans
All Iridium phone postpaid plans offer global coverage, with the exception of the Australia plan. The advantage of having a monthly or annual subscription is getting the lowest rate per minute when compared to prepaid plans and you never have to top up your airtime.  Postpaid plans renew monthly.  Iridium postpaid plans offer the convenience of Iridium's reliable, everywhere voice and data communications without the need to be concerned about a prepaid account expiring or having a low balance.
Why Choose Postpaid?
Postpaid subscriptions are perfect if you use satellite communications regularly or on a long-term basis. Being a postpaid customer, you get added benefits like free detailed calling records. You'll never be out of airtime or low on credit saving you from potential hassles while on your trip.
The postpaid options also include an emergency subscription which is paid annually. Along with this package, you get 10 call minutes and 10 text messages every month.
Iridium Global Coverage Map
---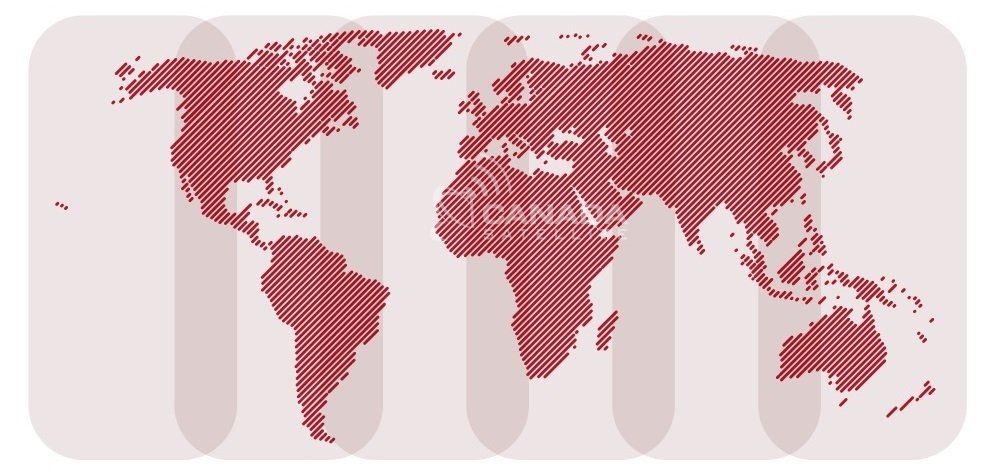 Please Note: All Iridium Airtime is based in USD and airtime price may vary with exchange rate fluctuations.

---
Tags | iridium sim card | iridium sim card yellowknife | iridium sim card prepaid Canadian sales | bgan Simcard | sim card for iridium 9505 bc | iridium global sim | iridium african sim card in africa | sim irridium card canada | carte sim prepaye canada | sim card iridium phones | purchase iridium sim card canada | iridium sim canada | sim card iridium global | carte sim telephone satellite | sim cards for air crew | POST PAID SIMCARD FOR CANADA | sim card south america | iridium 9505a prepaid card | Iridium 500 Min Global Prepaid Satellite Phone Card | thuraya sat phone cards in canada | iridium south america card | iridium plans satellite phone | isatphone pro plans | iridium satellite phone plans canada | iridium plans canada | satellite mobile phone plans Canada | iridium+satellite+phone+plans | iridium canada alaska plan | iridium satellite phone plans | satellite phone plans canada | canadian iridium postpaid plan | satellite phone canada plans | iridium aus plan | iridium openport plans | iridium plans | inmarsat standard plan | minutes iridium canada alaska | iridium+phone+prepaid+minutes | Inmarsat IsatPhone Satellite phone minute rates | satellite phone add minutes canada | Inmarsat prepaid minutes | satlellite phone 50 minutes | iridium satellite phone minutes | sat phone pricing minute | Canada Satellite | Iridium | SIM Cards | Iridum SIM Card | Iridum SIM Card Price | Iridum SIM Card Activation | Iridum SIM Card Sale | Iridum SIM Card Cost | Iridum SIM Cards and Airtime | Iridum SIM Card Prepaid | Iridum SIM Card | Iridum SIM Card Activation | Iridum SIM Cards and Airtime | Iridum SIM | iridium prepaid plans | iridium phone plans | iridium rate plans | iridium emergency plan | iridium northern lights plan | iridium satellite phone plans | iridium satellite phone sim card | iridium satellite phone minutes, iridium sat phone plans